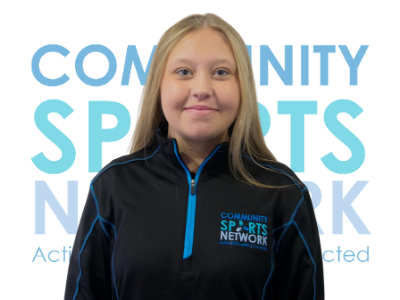 Abbie Clarke - Active Mentoring Internship Programme
Abbie is currently part of our Internship Programme through our Active Mentoring Scheme during her year placement at Ulster University, Jordanstown.
What was your first Involvement with CSN?
First involvement with CSN was back in sixth form in Girls Model when I was taking part in their SheerSKILL programme. This programme allowed me to develop my sports leadership skills through a range of different workshops that allowed me to gain access to further education as well as employment during my placement year within university.
What you were doing before joining CSN?
Before CSN, I completed two years at Ulster University in Jordanstown studying Sport and Exercise Science. As part of my third year in university I decided to complete a placement year before continuing on to complete my final year. For this placement I applied to become part of the team at CSN as part of an intern programme for active mentoring for a full year before heading back to uni.
Future ambitions, career & personally?
Thinking of the future and my future career has always been a difficult thing for me to decide. However, during secondary school I always knew that coaching would always be a big part in my life, especially in the future. Coaching and helping to increase sporting knowledge and participation levels is a keen interest I hope to maintain and develop in the future.
What history do you have in sport?
Sport has been a part of my life from a very young age. I first got involved through my local Gymnastics Club from the age of 5 which developed into me currently being a level 1 acrobatic gymnastic coach within the same club. As I got older I became involved in Trampolining at Grove Galaxy, which gave me opportunities to compete in both Northern Ireland and England, as part of the Northern Ireland team.
Best thing about working at CSN so far?
Best thing so far would have to be gaining the experience to be working with a range of ages within different communities and backgrounds. This has allowed the job to be more exciting and lovable as your able to meet new people and travel to new areas.
What is your favourite sport?
When participating in sport, Trampolining is definitely my favourite one as I always found the competitions more enjoyable and thrilling. However, when coaching, Gymnastics has to be my favourite as it has been a part of my life from a very young age and coaching it has enabled me to massively improve my confidence more.
Favourite sports person?
Simone Biles! As a gymnast growing up I have always loved her dedication and motivation towards her sport, training and performances, which is very inspirational.